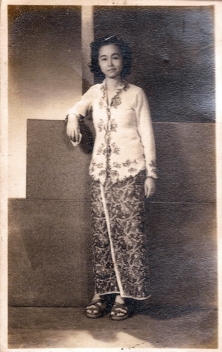 My Grandma, Koh Geik Sim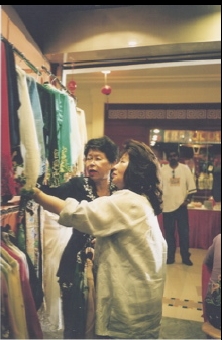 Kim (Left) & Endon (Right)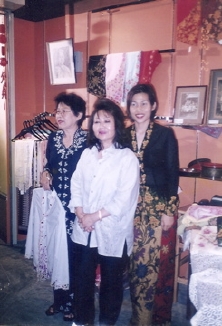 Opening of our Gurney shop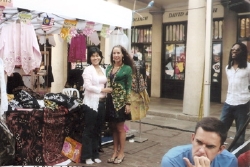 At Covent Garden in London, UK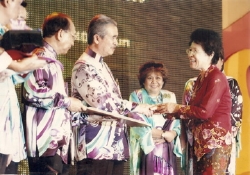 Kim awarded by PM Badawi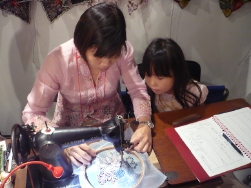 Demonstration at APEC Yokohama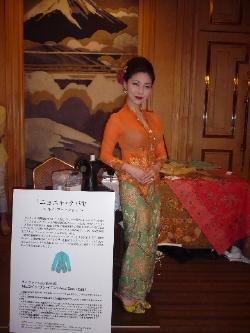 Our strong Japanese supporter



Welcome to my website!
I'm Koid Boon Ean (known as Ean to friends) and am a Chinese Malaysian. I'm happy to introduce you to the traditional Malaysian costume, the kebaya, and share with you my personal connection to this beautiful garment.


A Brief History of Peranakan
To fully appreciate the beauty of a treasure such as the kebaya, one needs to have a bit of knowledge about its history.
As early as the 15th century, the Malay Peninsula was a thriving trading port because of its location (between the South China Sea in the east and Indian Ocean to the west) and the changing monsoon winds. The Europeans, Indonesians, and Indo-Chinese traders, missionaries, merchants, etc. influenced the locals, thus creating a multi-ethnic and multi-cultural atmosphere.

In the 19th century, the kebaya, originating in Java, Indonesian, is believed to have "crossed the sea" to the Malay Peninsula where it became a popular garment for the local Peranakan women. (Peranakan is a Malaysian term referring to a person who is native by birth and usually of mixed blood. The women are referred to as Nyonyas and the males as Babas.) They were part of the Chinese community and lived a lifestyle influenced by Chinese and Malay cultures.

In the mid-19th century when the English took possession of ports in the Malay Peninsula, the Peranakan were of great help working as trade intermediaries between the English and Chinese traders. During this time and until the early 20th century, the Nyonyas and Babas lived the high life. They took the best from various cultures and integrated it into their own. They were proud of their heritage and their material culture flourished in architecture,silverwork, porcelain, and apparel. Families were proud to display their wealth. The Nyonyas did so with their kebayas, which were made with elaborate designs and intricate embroidery while being accessorized with expensive, ornate jewelry.


Kebaya
Culturally, kebayas in Malaysia are similar to kimonos in Japan; they are garments which can show a family's prosperity and, consequently, become valued treasures. For these reasons, their seamstresses require artistry and skill to produce a fully embroidered kebaya. Imagination is also necessary to create unique, one of a kind pieces which allow wearers to express themselves. Moreso in the past, exquisite floral designs were often depicted on kebayas. Seamstresses tried their utmost to make them as realistic as possible with regard to size, shape, color, and shading. This tradition continues and for a modern look, unrealistic color combinations in flowers have been introduced, along with more figural and geometric designs.

Carefully selected materials are chosen to ensure the kebaya's lasting quality. In the past a sheer, cotton Rubia cloth was used from Britain. After that manufacturing plant closed, a similar lightweight fabric was found in Switzerland, voile, with its highly twisted yarns. Voile continues to be used in the best quality, hand crafted kebayas. Softer, less tense threads are necessary for the embroidery on sheer fabric, thus DNC from France with its rainbow of colors is the most sought choice.
However, nowadays kebaya can be purchased in a range of prices. The lower priced, off the shelf products use inferior materials, such as polyester, and are mass produced. In contrast, the higher priced consist of better quality materials and more intricate embroidery features. For special occasions, artists' pictures are drawn and followed on a non-electric, treadle sewing machine for a customized version kebaya. If not properly stored, over time heirloom kebayas may develop spots or permanent creases in the folds. This is not a problem if high quality materials were used as a skilled seamstress will simply add more embroidery to blend in and complement existing patterns.

Sarongs
Traditionally a batik sarong, borrowed from the Malay culture, was twisted and tied around the waist to coordinate with the kebaya. This complete outfit was the daily attire for many. For some women, it was difficult to properly twist the sarong so a sewn skirt fastened with a zipper was created. This contemporary design has become popular.

Kerosang
Kerosang are used to fasten the kebaya in the front. These three ornate brooches, combined with an elaborately embroidered kebaya, showed the Peranakan's wealth. The larger, elegant, top brooch represented the mother and often consisted of a heart shape. The following two smaller, simpler brooches were often circular in shape and represented two children. Traditionally these were made of gold or silver.

Accessories
Jewelry such as necklaces, bracelets, rings and ankle bracelets also accessorize the kebaya. Nyonya were known for their conspicuous display of gold, silver, diamonds, jade, pearls and other rare, colored stones. Since Nyonya didn't earn money, their jewelry was their most prized possessions as it served as their social security in case of difficult times.

Hopefully with the above descriptions, you will be inspired to look at the kebaya in a different way and appreciate its rich history and culture.


My Family Heritage
My grandmother, Koh Geik Sim, was born in Kota Bharu, the capital of Kelantan state in Malaysia (※map). She was born into a middle class family and had an early interest in fashion. She became a widow with four adopted children and one natural child when she was in her early 30's. To survive, she learned to sew from the British residents and eventually created a tailoring business using a Singer treadle sewing machine. Soon she became well known in the Kota Bharu area for her unique style of kebaya and received orders from the women of the Kelantan Royal Family.

At the young age of nine, my mother, Lim Swee Kim, began learning kebaya embroidery and tailoring from my grandmother. My mother and father, Koid Kee Loon, met in Kota Bharu, while he was working as a government officer. He soon fell in love with her and they married. My father is a 5th generation Peranakan and at the age of 28 was transferred to his hometown, Penang. Following in my grandmother's footsteps, my mother established a tailoring business specializing in kebaya, and soon became well known. So much so that in 2005, Malaysia's Ministry of Craft awarded her the prestigious title of National Living Treasure for her promotion and expertise in kebaya design. My mother has become well known around the Malay Peninsula because of her awards and her exquisitely designed kebayas, but she still remains an unpretentious, modest grandmother. She never stops thinking of new embroidery designs. To this day, at 78 years old, she continues designing kebayas for her store, frequently travels in Asia promoting these beautiful garments and offers her services to all people, including celebrities, VIPs, foreign visitors, and the common person.

Myself. I was born in Penang and grew up surrounded by treadle sewing machines as over a dozen seamstresses worked from my home. I often played on the machines, much to the dismay of the seamstresses. My mother began passing on her special kebaya embroidery techniques when I was 12 years old. After graduating from high school, my mother felt it important I leave Malaysia to attend a fashion school so I moved to Tokyo. I enrolled at Bunka Fashion College in Tokyo in 1988. I lived in Tokyo a total of four years before returning to Malaysia. In Malaysia I worked at international companies and then in 2000 I joined my mother to open, "KIM," a kebaya fashion store in Gurney Plaza (Penang's famous shopping mall). Our first customer was Datin Seri Endon Mahmood, the wife of Malaysia's then and current Prime Minister, Datuk Seri Abdullah Badawi. Recently I returned to Japan with my twin daughters and have become passing on to them Malaysia's unique tradition.



Malaysia's First Lady, Datin Seri Endon Mahmood
Before my father's career as a government officer, he was a school teacher. At that time he met another teacher, Datuk Seri Abdullah Badawi, who later made a career change to politics. The two kept in touch over the years. Mr. Badawi had a successful political career, becoming Malaysia's Minister of Foreign Affairs and later Prime Minister. His wife, Datin Seri Endon Mahmood (known as Endon to our family), had a unique background as she was linked to Japan through her Japanese mother. Her father was Malaysian. Endon often accompanied her husband on his travels abroad. She enjoyed the richness of arts and crafts of the people in different countries, but the Malaysian crafts were always closest to her heart.

After her husband became Prime Minister in 2003, as First Lady, Endon was in a position to share and promote the crafts of Malaysia, in particular a craft that was slowly losing popularity, the Nyonya kebaya. She turned to my mother to design beautiful kebayas she could wear in her new role and also use for display. Endon tried collecting antique kebayas which wasn't always easy as families didn't want to part with their heirlooms from earlier generations. Even so, displays from her collection would be exhibited at various venues. She created a book, The Nyonya Kebaya, to showcase her collection. Through the Malaysian Ministry of Craft, my mother and/or I continue to participate in international exhibitions to promote the Nyonya kebaya in Singapore, Japan, Indonesia, the United Kingdom and of course, throughout Malaysia.


The Future
Malaysia lost a strong cultural promoter when First Lady Endon passed away in 2005, but my mother and I promise to keep the Nyonya kebaya tradition alive. While my mother continues non-stop designing and promoting traditional kebayas, I returned to Japan as I heard there was an interest in kebaya. It is lonely without the creative spirit of our mother/daughter combination but it is an opportunity to promote kebaya in an Asian culture where it is almost unknown. Whether the traditional kebaya costume will be accepted is questionable so I am trying to embark on a new path by offering classes and experimenting with traditional kebaya embroidery in non-traditional ways.